SPEED, QUALITY & PROFITS

Over 12 boards an hour! Better than iron results. Triple or Quadriple your revenue and profit compared to ironing


2 MINUTES PER BOARD

While the Toaster automatically heats the board you are free to do other things like sharpen an edge, mount a binding, or help a customer. When it beeps, just squeegee and you're done!


CLEAN

There is no scraping, no smoke fumes and no mess! The Skins Deep Penetration Waxing System is so clean, you can use it in the retail area and offer a promotional wax-while-you-shop service!


DEEP PENETRATING

Five minutes of direct heat over the entire base makes the deep penetration possible and results in a base that is fully saturated with wax.


LONG LASTING

Because the base is fully saturated, the resulting wax will last 2 to 3 times longer than a traditional hot wax.


PROVIDE BASE PROTECTION

Leave the plastic sheet sealed to the base to protect the snowboard during storage and travel. Simply peel off the plastic sheet before riding. The presentation and quality are awesome!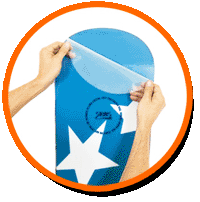 Skins is simply the best way to wax a snowboard. For quality, speed and price, there is no comparison between Skins and other waxers. Skins is by far the best value
on the market!